Labour's (re)nationalization plans: rolling back Thatcher's legacy?
On May 16, leader of the UK Labour party Jeremy Corbyn announced his party's plan to (re)nationalize the UK's water and energy network. This programme would be carried out in the case of a Labour victory in the UK national elections in 2022. Since the start of Thatcher's first ministry roughly 40 years ago, the UK has been predominantly led by conservative governments. This conservative leadership has included far-reaching privatization programmes, but Labour plans to make a change.
Reasons for (re)nationalization
Already in 2017 the nationalization of mail delivery, railway, energy and water networks was a campaign point for the Labour party. But as opposed to two years ago, says Reuters, Labour has now presented more details on how the party plans to carry out this nationalization (William James 2019). These details were presented in a document named 'Bringing Energy Home', in which the party presents its plans for publicly owned energy networks.
According to Corbyn, who has led the Labour party since 2015, the primary arguments for nationalizing the UK energy network that is currently handled by private companies are the development of a green economy and the well-being of energy customers. As opposed to paying out the shareholders with dividend, Labour says, profits from the energy network should be invested in developing the UK's 'green economy'. Labour calls this 'The Green Industrial Revolution'. Instead of the short-term profit that private companies go for, a long-term strategic approach is needed to fulfill climate change goals. Part of this revolution is Labour's goal of generating at least 60% of the UK's electricity and heat from renewable and low-carbon sources by 2030, an ambitious objective.  An example of Labour's plans to combat climate change and spur the development of renewables is the installation of solar panels on people's homes, particularly on those suffering from poverty. This would assist in decarbonizing the UK's energy generation as well as push back energy poverty.
The main private companies that would be subjected to nationalization are National Grid, Scottish Power and SSE. According to Rebecca Long Bailey (Labour politician and Shadow Secretary of State for Business, Energy and Industrial Strategy), the privatization of energy network companies since Thatcher has enabled these businesses to make large and unjustified profit margins by overcharging their customers and failing to invest the needed capital back into the system in order to accommodate the transition to renewable energy and uphold proper service. Thus instead of properly investing in infrastructure, Labour says, private companies have chosen to pay out large dividend to their shareholders as well as inflated salaries to senior executives and directors (Labour 2019). The height of the dividend that has been paid over the past five years amounts to £13bn, meaning that UK energy customers have been presented with a much higher bill than necessary. With putting a stop to the dividend payouts, Labour argues that the nationalization of the energy network would lead to available capital to be invested in green economy, decarbonization and fairer energy prices for customers.
To manage the nationalized energy grid, Labour proposes to establish a 'National Energy Agency', below which there will be regional, municipal and local energy agencies. The local agencies can be as small as separate neighborhoods managing their own energy network. The National Energy Agency is planned to provide an overarching strategic compass and be able to oversee the decentralized agencies to ensure efficiency, Labour says (Labour 2019). While this is an interesting idea in theory, the bureaucracy that comes with such a project will be immense, which would presumably increase inefficiency risks.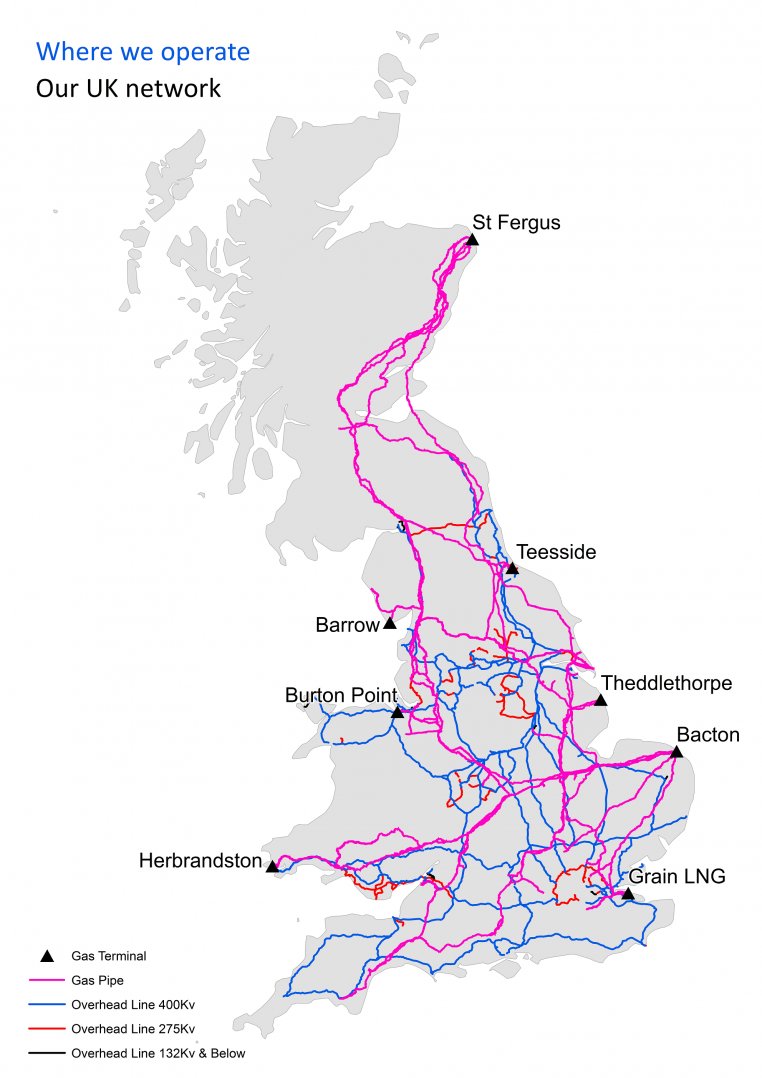 Network route map of the National Grid, Source: Nationalgrid
The payment plan
An important issue in Labour's nationalization plan is the price that the government will pay for getting ownership of the assets. According to BBC, the UK's electricity and gas network's stock market value amounts to £62bn (Angela Monaghan 2019). But Corbyn expects that the price that the government eventually will pay will be considerably lower as a result of considering "pension fund deficits; asset stripping since privatisation; stranded assets; the state of repair of assets; and state subsidies given to the energy companies since privatisation" (Labour 2019). More specifically this means, as the Guardian explains, that Labour expects that the lack of investment in the networks by the private companies, past state subsidies, disproportionate profit taking and the gaps in existing final salary pensions to be subtracted from the network's stock value. This in turn would significantly lower the cost of obtaining these assets (Phillip Inman 2019).
The current investors in the private network companies will be compensated with government backed bonds issued by Treasury. In return for their shares, investors turn into lenders to the government. This means that while they will no longer receive dividend, they will receive interest from the state over their issued loan. The price that the government eventually pays will be added to the existing national debt of £1.8tn which, according to Labour, will be compensated by the ownership of the assets. Labour argues that this way of obtaining the assets would be cost-neutral for the UK government "because the public sector exchanges a liability (the bond) for a profitable asset (the energy network companies)" (Labour 2019).
But Labour itself won't be able to determine the price that the government will pay for these assets. It is determined by law that the eventual price is to be set by the UK parliament. This factor makes a severely undervalued price less likely, as paying such a below market value price that Labour is aiming at is not common practice both in- and outside the UK. Moreover, the court could even rule against it in the case that the parliament votes "aye" for a price that lies seriously below market value. It is therefore questionable whether Labour would be able to considerably lower the costs of nationalizing the industry. According to the Guardian, subsidies that the UK government has provided to the private energy network companies in the past will most likely be considered by the court to have been legitimate aid at that time (The Guardian 2019). Asset stripping is a gray area that will probably be taken to court by the private companies. According to Independent, some businesses are already undertaking measures to protect themselves from being taken over below market value by a future Labour-led government (James Moore 2019).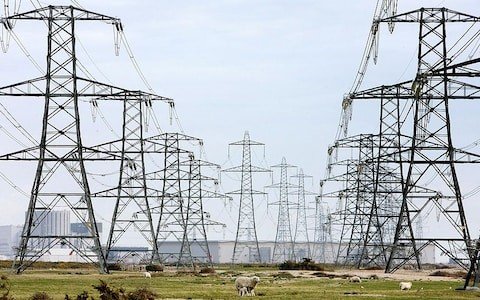 Source: The Telegraph
Support and opposition
As expected, the CBI (Confederation of British Industry) and the private companies themselves are directly opposed to the project. National Grid has reacted stating that network investment programmes are already underway and that a nationalization plan would merely interfere with the initiatives that are in progress now. The private businesses believe that a nationalization of the energy network would actually curb progress in the fight against climate change due to lower investments through the loss of investors, make the UK as a whole poorer, and endanger the efficiency of the system, indicating that power cuts would become more frequent. This is not an unlikely scenario, as Labour's plans require a complete organizational overhaul, yet on the other hand they are still quite vague. The sole implementation of the programme could hinder its effectiveness as there might be simply too much to do and too much to oversee.
In addition, Labour's climate change argument in combination with high customer costs do not really go together. In order to make the existing network adaptable to distribute power generated by renewables, the old system needs major upgrades. This will cost billions of pounds. Besides that, billions will have to be invested in generating this renewable energy to begin with. This would primarily be solar and wind energy. In addition, service is supposed to improve, and employee's pay and pensions need to be upheld. This will all be government funded, and therefore leads critics to believe that in contrast to what Corbyn argues, while carbonization might eventually go down, customers' wallets most likely won't be better off.
While Corbyn's chances of becoming Prime-Minister in 2022 are certainly not set in stone, Reuters sees it as increasingly possible as the center-right Conservative minority government is split on the Brexit question which has led to a practically 'frozen' government (William James 2019). This inter-party chaos has reduced the party's overall efficiency as well as people's trust in its competence to lead the UK through this chapter in British history. The Conservative Party's splintering is even more illustrated by May's resignation on May 24 as well as the poor European Parliament election results. While the struggle for party power has undoubtedly been going on behind the scenes, it will now become a public spectacle that will highly affect British politics in the upcoming months. Meanwhile, in all likelihood no real progress will be made on the current Brexit deadlock. This chaos leads UK voters to seek an alternative. Labour wants to be this alternative, although it is unlikely that traditionally conservative voters would massively turn to the Labour Party. This is illustrated by the increasing popularity of Nigel Farage's Brexit Party among Brexit voters that are primarily conservatives. By these voters, the Brexit Party is therefore presumably a more logical alternative to the Conservative Party, which is shown by the UK results of the European Parliamentary elections. According to current results, the Brexit Party has with 31.6% of the votes left Labour (14.1%), the Liberal Democrats (18.6%), the Green Party (11.1%) and the Conservative Party (8.7%) in the dust. Both mainstream parties of Conservative and Labour have lost a significant percentage (14.0% and 11.3% respectively) which signifies the UK people's disillusionment with the current system. The question is what the Brexit Party can offer the people when (or if) the Brexit is eventually finalized as an official party programme is still missing.
The people's disillusionment with the current Conservative-led system overall, and the energy specific sentiment that the private energy network companies are failing to properly serve the customers means that as opposed to the political playing field, a considerable part of the UK's population might support Corbyn's nationalization plans. This is particularly the case in relation to the high dividend that the private companies have been paying to their shareholders in the face of rising customer bills over the past years. This is a very real problem. However, such support also means that people's expectations will be high. What the UK people want to see most of all is a lower bill for their own energy consumption. The question is to what extent Labour would be able to meet these expectations if it does manage to win the elections in 2022. This already starts with the low rate that Labour expects to pay to obtain the assets, and the difficulties that are connected to this objective. If the government ends up being forced to pay a much higher price than Labour has so candidly announced to the public, it would be a first strike in the people's confidence in their personal benefits in this project and the Labour Party as a whole.
---
Bibliography
Angela Monaghan. 2019. Labour to end energy consumer 'rip-off' and renationalise network. May 15. Accessed May 23, 2019. https://www.theguardian.com/business/2019/may/15/corbyn-to-reveal-labour-plans-to-nationalise-uks-energy-network.
James Moore. 2019. "Jeremy Corbyn's plans to nationalise the energy grid are needless and impractical." Independent. May 16. Accessed May 26, 2019. https://www.independent.co.uk/voices/corbyn-national-grid-energy-nationalise-green-industrial-revolution-a8916711.html.
Labour. 2019. "Bringing Energy Home." Labour.org.uk. May 16. Accessed May 25, 2019. https://www.labour.org.uk/wp-content/uploads/2019/03/Bringing-Energy-Home-2019.pdf.
Phillip Inman. 2019. How does Labour plan to pay for its energy nationalisation policy? May 16. Accessed May 23, 2019. https://www.theguardian.com/business/2019/may/16/how-does-labour-plan-to-pay-for-its-energy-nationalisation-policy.
The Guardian. 2019. Labour's plans for cheap green energy are no more than electric dreams. May 19. Accessed May 25, 2019. https://www.theguardian.com/business/2019/may/19/labour-fantasy-plan-nationalise-energy-gas-electricity.
William James. 2019. Factbox: What would a UK Labour Party government nationalize, and how? May 21. Accessed May 23, 2019. https://www.reuters.com/article/us-britain-politics-labour-nationalisati/what-would-a-uk-labour-party-government-nationalize-and-how-idUSKCN1SR0ZA.
ENERGY-HUB
Along with concerns about the consequences of global climate change have come initiatives to slow the process. The development of energy generation through renewable sources is one aspect, but energy efficiency has also become increasingly important…
Elektro is integrating specialists of electrical engineering, electric power sector, construction, lighting and building automation.
USOW20 is officially the No.1 networking hub for businesses that are looking to invest, find partners or secure contracts in upcoming US offshore wind projects. With 2000+ attendees, the event will give you unprecedented access to decision makers from every major developer, investor, EPCI contractor, supplier, manufacturer, and key stakeholder.
Already on its 13th edition of a very successful series, Oleofuels 2020 will bring together senior representatives from the biodiesel, renewable diesel and HVO industries to discuss the latest market advancements, developments & business opportunities. The event will cover current challenges and issues faced by the industry and provide an in depth outlook and overview of today`s European & global Oleofuels markets. Policies and regulations, updates on feedstock availability & supplies, followed by cutting – edge technologies helping to meet new emerging transport decarbonisation trends, will provide a basis for an informative and balanced discussion for participants from the across entire supply chain.
ENERGY-HUB is a modern independent platformsharing news and analytic articles from the energy sector on a daily basis. Within our portfolio we monitor czech, slovak and foreign press releases.
51404
Number of published news
1693
Number of published events
487
Number of published articles